Creating the plan
To create the initial meeting plan, go to the main 'Meetings' page and click 'Monthly meeting planner' under the ellipsis (...) button. Enter the number of future meetings you want to have in your plan and select the starting month of your plan. If you have more than one recurring meeting schedule, select the one you want to use.

Click on 'Plan meetings' to create the plan. At this stage, you are not yet creating any meetings, just a plan. The planner tool creates an empty plan with the number of meetings you selected. The meetings will have the dates according to your recurring schedule but other than that contain the default values for location and meeting info. From now on, all changes to the plan are manual.

Meeting plan - partial view
The next step is verifying the meeting dates and locations. For instance, move a meeting that would fall on a holiday, make sure locations are available for all meetings, etc. You can also add extra meetings or delete meetings if required.
---
"Planning your meetings in advance and building that road map will help your organization to achieve its long-term goals for success."
---
With all meeting placeholders now created, it's time to start working on the road map. Click on the edit icon and enter the goals for each meeting.
To keep it clean and simple, only provide the high-level topics. You can always add more details to the agenda items later.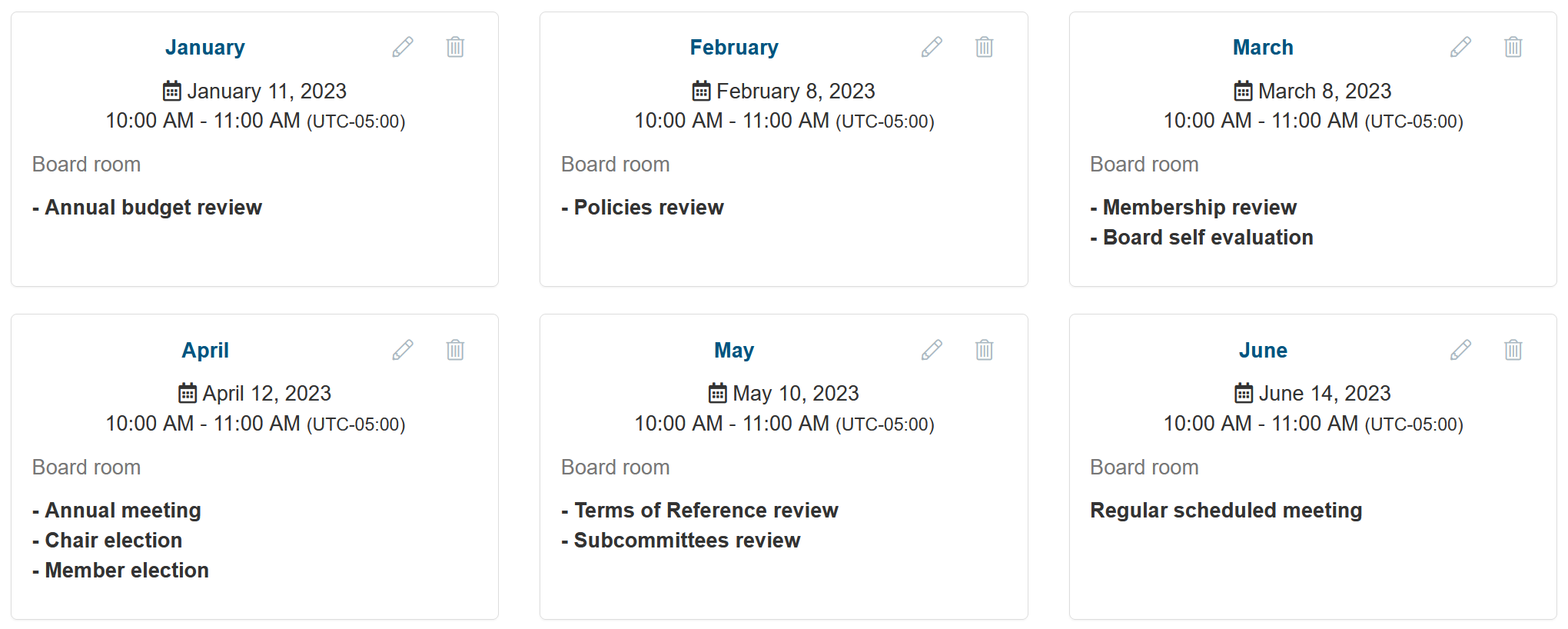 Road map - partial view
Don't worry if you don't get it 100% right the first time, you can leave the plan 'as-is' at any time and come back later to make changes, or you can continue to the next step, create the meetings and make changes later on the 'Future meetings' page.
Creating the meetings
Once the plan is in good shape, click on 'Continue' at the bottom of the page to go to the next step.
You are now about to create the actual meetings and send a notification to your members. Verify the meetings that will be created one more time and enter the text for the notification email.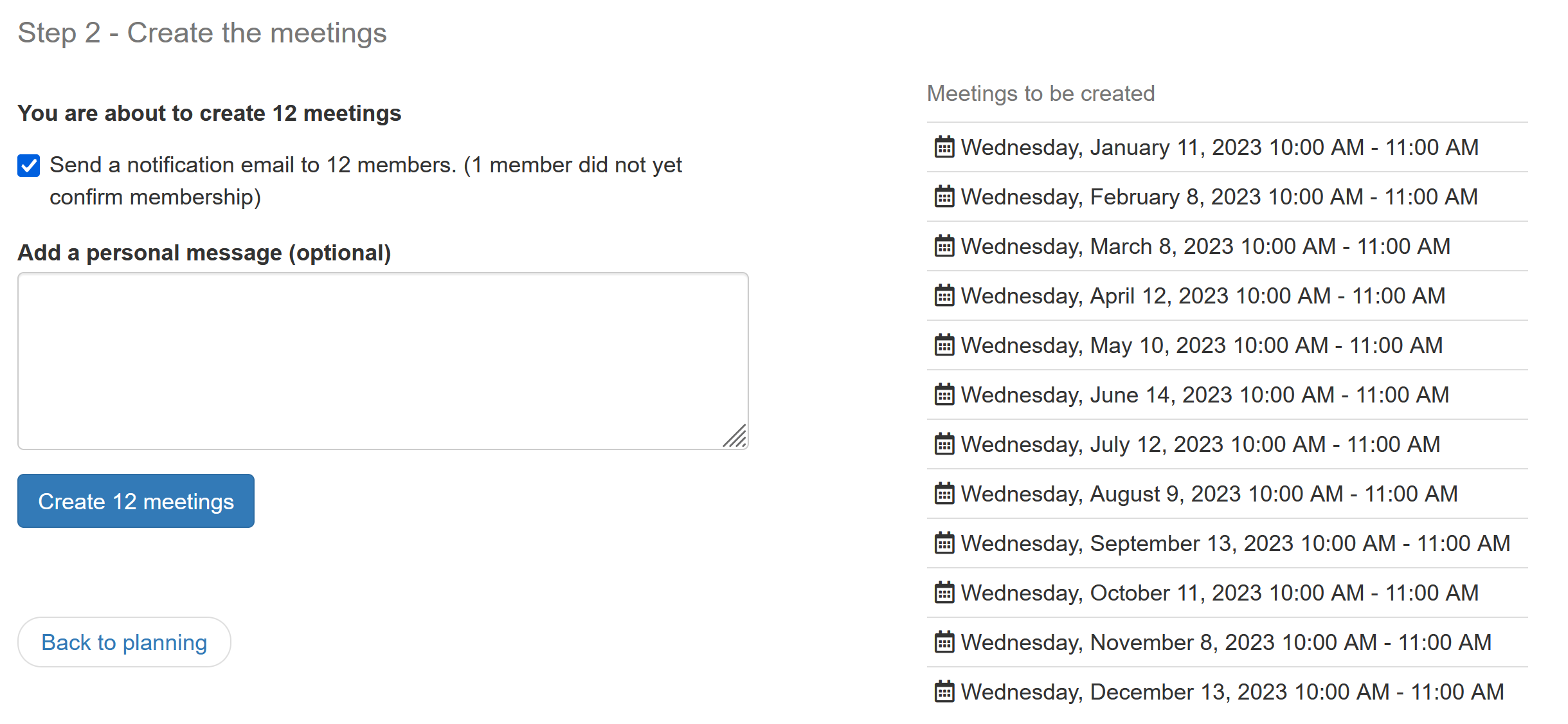 Once the meetings are created, members will receive a notification email and can add the meetings to their calendar.
The meetings will now show up on the 'Future meetings' page where members can visualize the road map. On this page, you can make changes to the plan and start compiling the individual meeting agendas.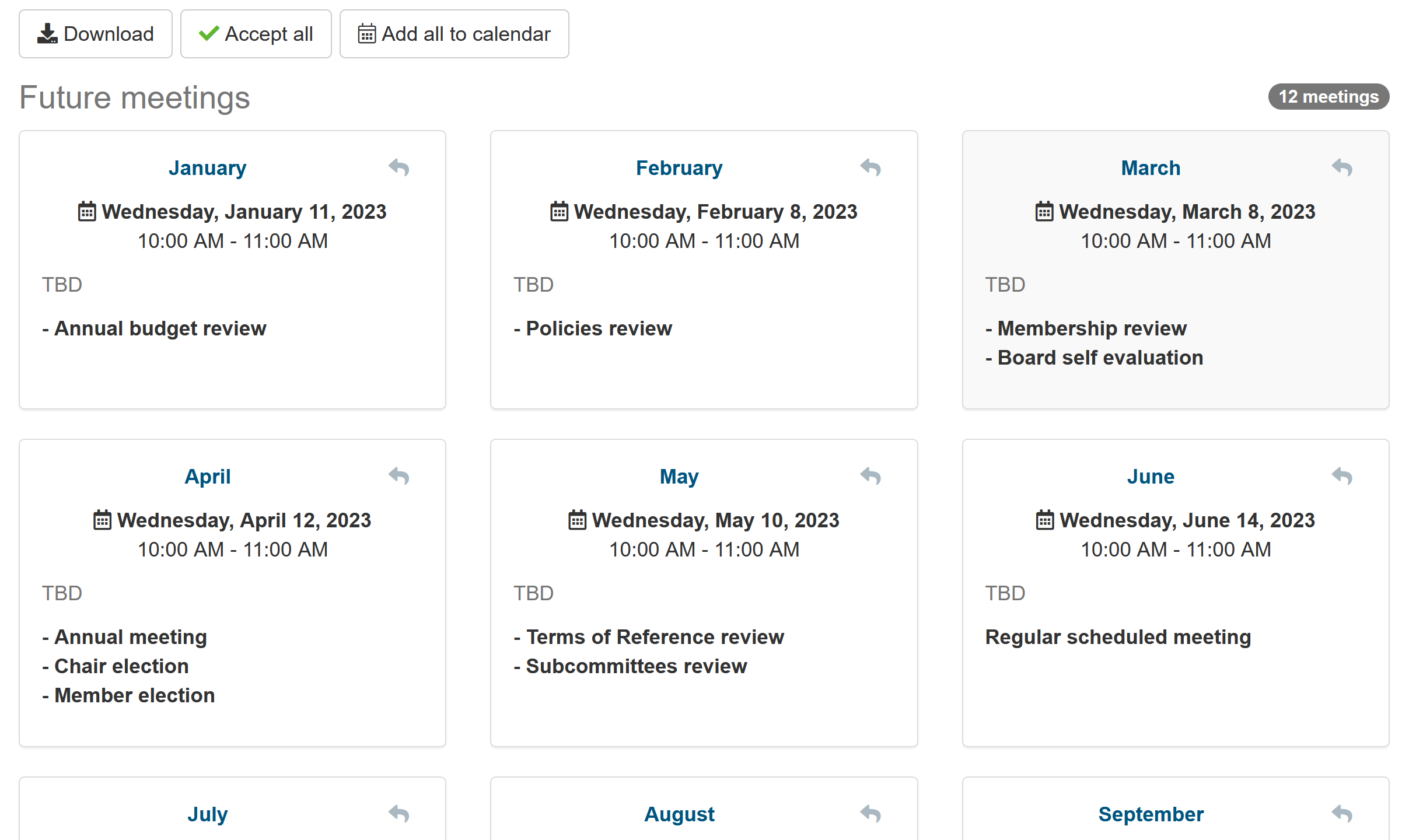 Remember, all meeting agendas are in draft mode and hidden for members until published. Before each meeting, publish the final agenda and send another notification to remind your members of the upcoming meeting and highlight the main topics.